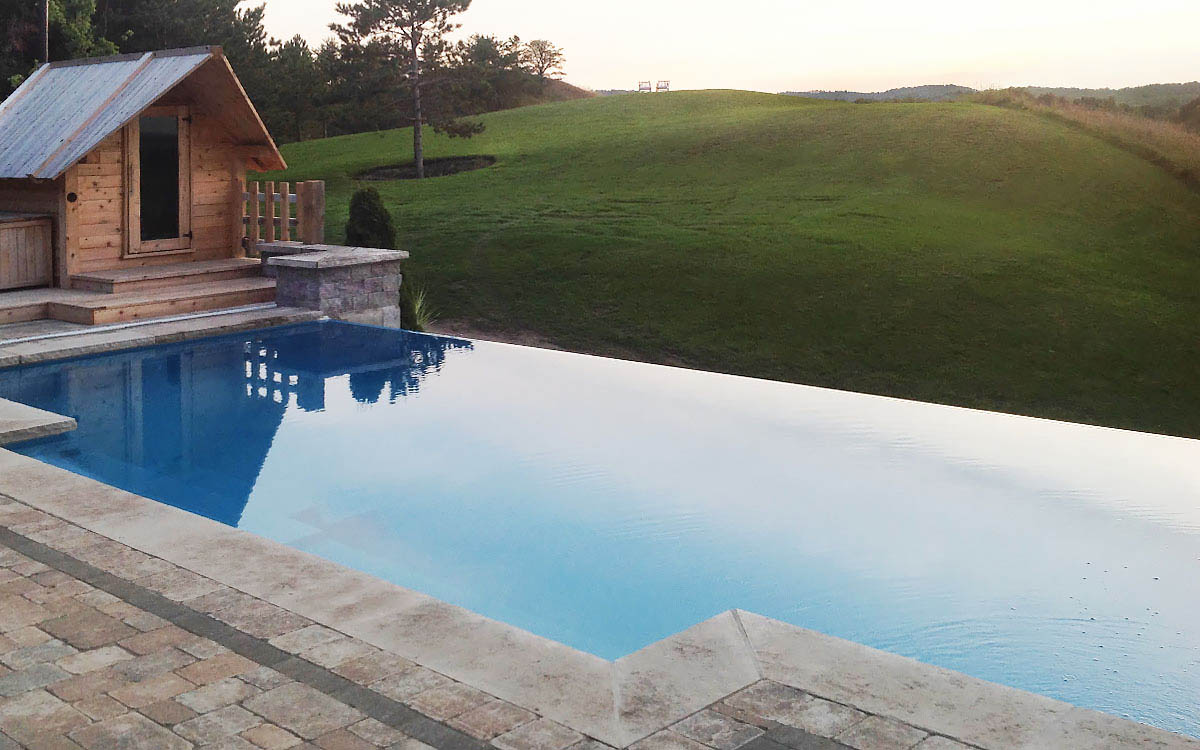 4 Key Tips When Installing a Fiberglass Pool on a Sloping Site
Composite fiberglass pools can be installed on any slope with the proper planning and development. In developing a plan for your backyard dream, it will require a flat area to accommodate the fiberglass pool. Many sites allow for installers to simply grade an area for your swimming pool and concrete. With more homes now being built on sloping sites your pool construction project requires more planning. Here are 4 key tips to consider when installing a fibreglass pool on a sloping site:
Be sure to plan it out: The best way to insure that you get a properly built project that you love to share with family and friends is to plan it all out. You are investing in your property and there are a lot of things to consider. A reputable swimming pool installer can provide you with a drawing and job costs for you to look over. A landscape architect may be needed for more involved plans and engineers for large walls over 4 feet (1.2m) tall. Protect your project and your pocketbook by having the proper plan.
Spend your money wisely: Many projects will require that a retaining wall be built because the slope is too great for simple grading. Use elevations that allow for 18" (450mm) to 24" (600mm) retaining walls. You want to keep walls under 32" when possible. Any wall greater in height than 32" (800mm) may require a handrail for safety. If you have to install a retaining wall to protect your pool then why not make that investment functional. The height of 18" (450mm) to 24" (600mm) allows the wall to become a seat around your pool patio and keeps you from dragging out all those extra patio chairs for your guests. These heights also allow for the patio area to feel open.
Creating a tranquil paradise and water feature: The use of lower walls allows for plantings to be incorporated behind the walls. You can coordinate your favorite flowers or small bushes in behind the wall – don't forget some color! Retaining walls will also add some great dimension to the project. By adding some water spouts, water features or sheer descents your investment can become that swimming pool you always wanted to "wow" the neighbors. Plantings like this are typically easy to install and do not hurt the overall budget.
Drainage is the key: Whether it is simple grading or a retaining wall that is required the key is drainage around the structure. The structure includes the fiberglass pool, patio and retaining walls. If grading is the answer be sure that the patio slopes away from the pool and drains away from the patio edge quickly. Any areas that the patio touches the retaining wall will need drainage in the patio. All retaining walls require a drainage system to be installed behind the wall structure. Just like the drainage that surrounds your homes foundation. Although we love the water in our pool it is our enemy outside of the area we swim in. Water is lazy and will find the easiest path. Make sure that path does not cross through your pool and patio.
A sloping backyard will require more planning for you and your pool contractor but it is not an obstacle to keep you from your dream backyard. Always include the proper planning for any project that you desire. Use that plan to get the most out of your hard earned money and start building your fiberglass pool today. Enjoy each day with your family and friends.
At Leisure Pools we believe we have one of the best swimming pool dealer networks in the world. We have over 400 Dealers selling and installing Leisure Pools across the globe. If you have a sloping block look no further than your local Leisure Pools Dealer (leisurepoolsusa.com) to give you the best installation advice you need to make your swimming pool dream come to life. At Leisure Pools we want you to be 'Swimming in Quality and Style'.
Share This Story, Choose Your Platform!