Did you know that your swimming pool color can create a certain look, vibe or aesthetic to your home or outdoor area? Imagine having a pool space that conjures images of the turquoise waters of the Caribbean, the dazzling beach sand of St. Ives or the clear, crystal blue water of Blue Lagoon in Turkey. With Leisure Pools, this can be a reality. Unlike many swimming pool manufacturers that offer only two or three color choices, Leisure Pools offers seven stunning options. These colors have been carefully chosen for their beautiful look and how fantastic they appear in the waters of a swimming pool. There is also a color option to fit an aesthetic.
More than a decade ago, Leisure Pools introduced Aquaguard® colored gelcoats into the North American market. These colored gelcoats include a built-in sparkle that creates a shimmer effect.
These are the seven pool colors offered by Leisure Pools
Sapphire Blue is one of the more traditional picks for an inground pool color. This royal blue gelcoat has a diamond shimmer that adds just enough sparkle to set it apart from standard blue pools.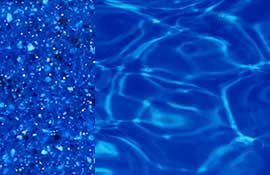 Crystal Blue is a light blue gelcoat finish with a white shimmer effect. It will enhance the blue color of your pool water, creating an ocean-like swimming area.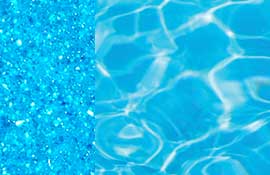 Aquamarine perfectly describes the color of this gelcoat. It is a turquoise color with white shimmer and tiny black specks. The overall effect is similar to the Crystal Blue in that it makes the pool take on a clear, Caribbean look.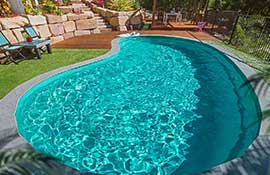 Diamond Sand is reminiscent of the sand on any beach. A light tan color with a diamond-like shimmer is sure to make your pool look tropical.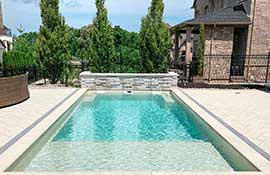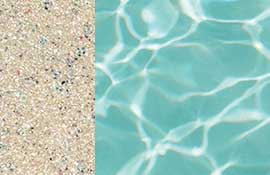 Silver Grey is a very light grey gelcoat with a light blue shimmer. When a pool with this color is installed and filled, it has a very light, clear, and pristine look.
Graphite Grey is a dark grey gelcoat that has a light blue shimmer in it. It is a lighter color than the Ebony Blue, and will make your pool look clear and blue like the Caribbean.
This gelcoat is black with a blue and white shimmer effect. It will create a deep blue color when your pool is filled, and also give your space a sleek feel.
The Science of Color Under Water
Did you know that colors appear differently at various depths? This is because red light waves do not penetrate through the water surface as well as green and blue light waves. Check out this excellent demonstration of the color spectrum from just below the surface to the depths of 155ft under water.
Color Choosing Factors
There are many different points to consider while choosing the gelcoat color for your new Leisure Pool. Why is finish color so important? Because you will see it every time you look at your backyard!
The size of your pool will have a unique impact of the overall appearance of the color of your pool. Our largest models naturally provide the greatest amounts of sparkling surface area and water volume for sunlight to bounce through your swimming pool and play off.
Compare small and large-sized pools in Graphite Grey (left column) and Silver Grey (right column).
To see all 27 Leisure Pool swimming pool models, visit our Fiberglass Swimming Pool Designs page.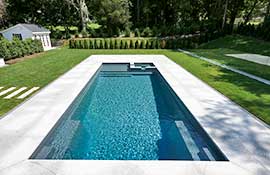 The positioning of the sun will also have a distinct affect on the appearance of your new Leisure Pool throughout the day. In the pictures here you can see clearly see how the same model (The Allure) and color (Sapphire Blue) pool will look brighter, richer, and have more defined features with greater contrast at different times during the day.
The best part? No matter what time of day, the pool surface of your Leisure Pool is sure to look absolutely stunning.
It is also important to consider the color palette of the landscape that your new pool will nestle into. What does your perfect relaxation destination look like? What are the colors of your Leisure Lifestyle?
While certain colors in the AquaGuard range of gelcoat colors tend to trend in one direction or another – Graphite Grey and minimal, modern spaces, Crystal Blue and blissful, tropical settings, for example – any color in the AquaGuard gelcoat range will adapt to compliment the surrounding scenery that it reflects.
Notice the breathtaking statement a bold and unexpected pool paint color like Ebony Blue makes in a variety of settings.
Check out our Affordability page for help planning your dream backyard, or download our Great Ideas Pack for an inspiring collection of full color installation images.
What are the colors of your Leisure lifestyle?
It can be a hard decision to make given so many choices, but you are sure to find a gelcoat color that will match the style of your pool space with the smart Leisure Pools AquaGuard range of gelcoat colors. This smart color range also has UV, blister, and chemical resistance to prevent any type of damage that may occur.
For more information about the science of our gelcoat color and supplier, visit our page on our Swimming Pool Technology Advancements and Innovations.
To see even more examples of our beautiful color system, visit our Colors page.