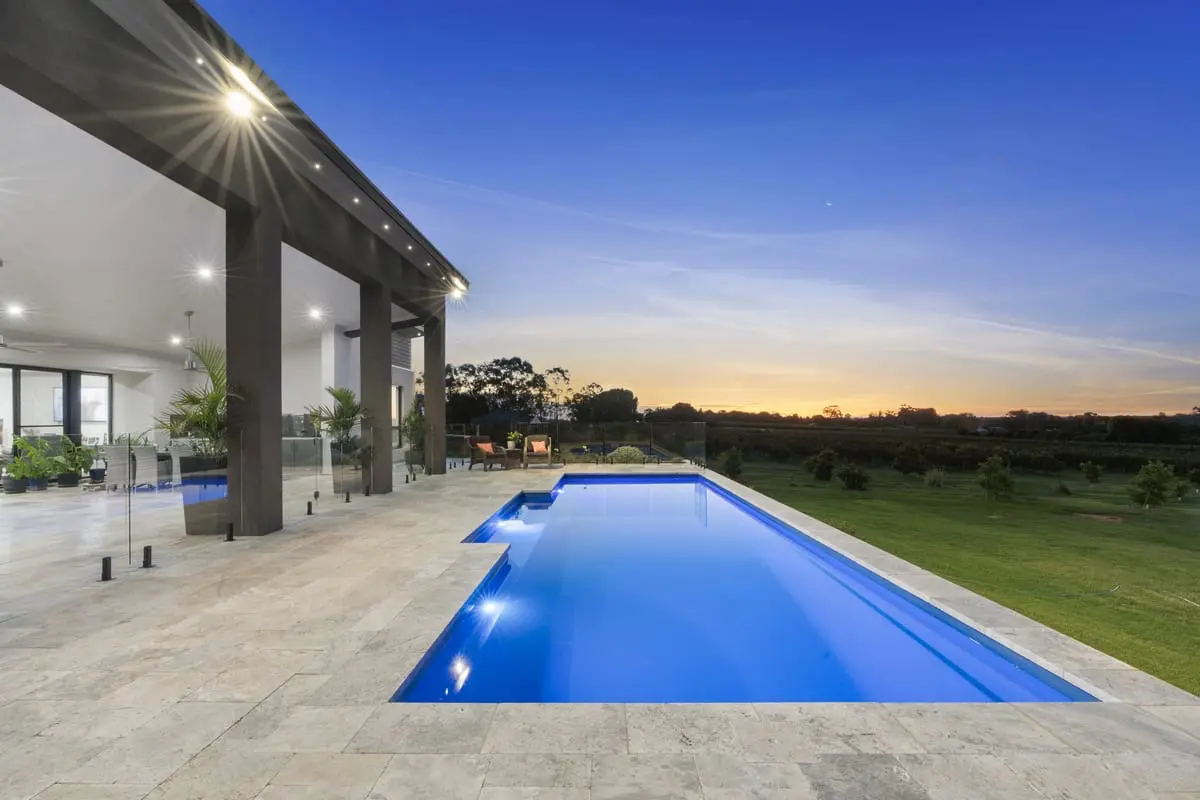 How Pool Lights Can Enhance Your Swimming Pool
Pool lights are the perfect way to let your backyard pool take center stage. The lighting setup can give you an amazing view and showcase all of the stunning details in and around the pool. With proper pool lights, you can add a whisper of drama, some alluring depth, and even an air of mystery. Plus, when properly placed, lighting in your pool can improve safety and security, not only in and around your backyard pool but also around your entire property.
Pool Lights Amplify Backyard Safety and Security
Pool, spa, and backyard lights improve pool safety. Without proper lighting, your backyard pool and surrounding areas can cause potential mishaps and accidents. At night, pool lights offer improved visibility and contrast for kids, adults, and pets. Also, they can reveal surface differences, depth, and transitional areas that otherwise might be difficult to see. Further, pool lights enhance the overall security, as it gives you the ability to see your property all day and night. They also allow you the opportunity to enjoy some nighttime swimming. In essence, this extends the life of your pool, as you have that many more hours by which to enjoy it. Accent pool lights lets you enjoy your pool at all hours.
Lights Enhance the Overall Beauty of Your Pool
In addition to improving the safety and security of your backyard oasis, lights in your pool also illuminate any special elements and features you have in and around your pool.
First of all, lights can beautifully punctuate any transitional areas in your pool, such as a splash pad or tanning ledge and any steps leading down into the pool.
Secondly, lights give any fire features you have in and around your pool some added brilliance.
Finally, lights enhance the landscape features in your backyard and around your pool, including planters and paths, as well as accentuates any architectural features, such as a pool house, gazebo, or deck.
Pool Lights Give Your Inground Backyard Pool Added Sparkle and Shine
When you add new lighting features to any of our award-winning pool designs, you give it a whole new look, feel and presentation. And, as mentioned previously, added lights in and around your pool translates to extended hours of use, which in turn increases the longevity of your pool.
Further, if you enjoy the look and sound of moving water, you can incorporate some water features into your backyard pool, that, when coupled with accent lights, can provide layers of fun, excitement, drama, and elegance. There are a variety of innovative and unique water features that add style to any backyard pool. Orchestrated with interesting and creative lights, the results can prove to be absolutely stunning.
Deck jets
Imagine an arching stream of water flowing from your pool deck into the pool itself. Tranquility comes to mind. When paired with accent lights, you have essentially created a work of art.
Sheers
This curtain of water that pours right into your backyard pool or spa can be customized with energy efficient white or colored LED lighting.
Bubblers
A bubbler transports a cascading column of water from the surface of the pool into the air above your pool. These can be customized to achieve a variety of heights and widths.
Explore the Power of Color
If you have a backyard pool, chances are you love to entertain and have a poolside party on occasion. Bearing that in mind, why not invest in some colorful pool lights to spice things up a bit? With customized options, you can create just the right them for birthdays, holidays, anniversaries, graduations, and more.
When you incorporate the visual statement that comes with captivating outdoor lighting, you will appreciate your inground fiberglass pool even more, especially at night. You may even begin to realize that the recreational time you spend with your family by the pool soon expand into the evening hours with the addition of some fantastic ambient lighting. Can you think of a better way to relax, unwind, and de-stress at the end of a workday?
Want to Learn Even More Ideas?
Discover more exciting ideas through our great ideas pack.
And to learn more about inground backyard fiberglass pool lighting, water, and fire features, consult your local dealer at Leisure Pools. To find your local fiberglass pool dealer, call 855-857-7527 or go to our website at at leisurepoolsusa.com. We are happy to assist you in finding some exciting ideas for stylish backyard lighting for your pool and spa and are always here to help you enjoy a "life of leisure" every day of the year.
Share This Story, Choose Your Platform!